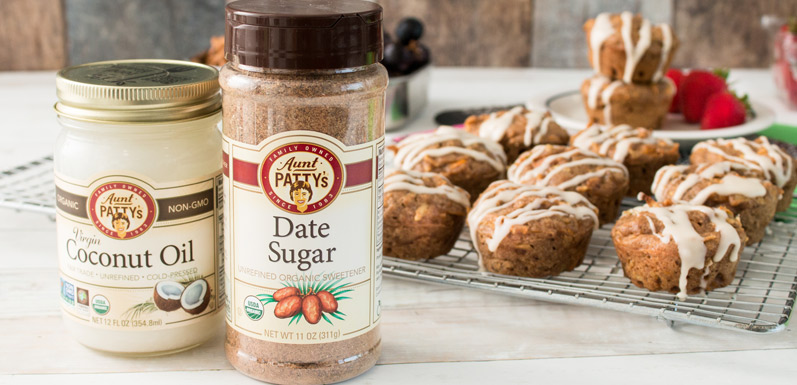 Back-To-School Breakfast Muffins
Back to school week seems to get busier every year. If you can prepare and make a few meals in advance it always helps. Our Back to School Breakfast Muffins include fruit and vegetables so you know you're feeding your family a balanced meal. Grab a few for the commute to school and the kids will be pleasantly surprised by the hearty breakfast.
Ingredients
1½ cups all-purpose flour
1 cup whole wheat flour
2 teaspoons baking powder
1 teaspoon cinnamon
½ teaspoon ginger
½ teaspoon fine sea salt
1¾ cups milk or nondairy milk
⅓ cup Aunt Patty'sⓇ Date Sugar
¼ cup Aunt Patty'sⓇ Virgin Coconut Oil, melted
1 egg
1 medium tart apple, cored and grated (about 1 cup)
1 large carrot, grated (about 1 cup)
½ cup golden raisins
Directions
Preheat oven to 375℉. Spray 2 standard 12-cup muffin tins with cooking spray or line with paper muffin liners.
In a medium bowl whisk flour, whole wheat flour, baking powder, cinnamon, ginger, and salt. In a large bowl whisk milk, sugar, oil, and egg. Stir in apple, carrot, and raisins, then dry ingredients and mix until combined.
Divide batter between 15 muffin cups (or bake in 2 batches if you only have 1 muffin tin) and bake until browned and set, 20-25 minutes. Let cool in pan for 5 minutes, then transfer to a rack to cool completely.