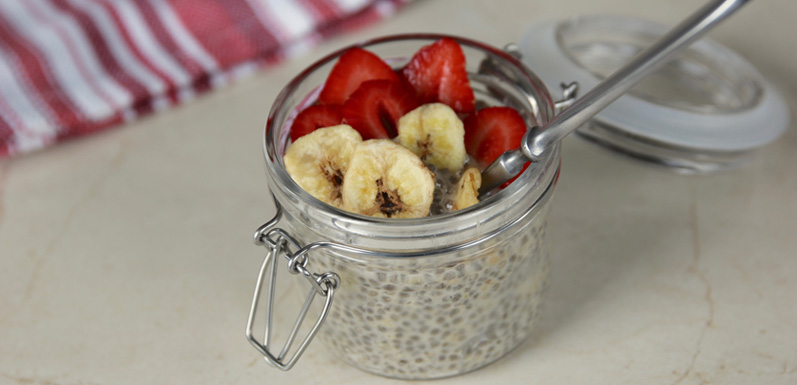 Chia Breakfast Porridge
Here's a quick breakfast pudding with simple prep the night before. This recipe makes an easy on-the-go breakfast that contains 37% of your daily fiber, Omega-3 and Omega-6 fatty acids, and the energy boosting benefits of chia seeds. Chia means "strength" in the Mayan language. Ancient Central American messengers would use them as fuel while running long distances. The following easy recipes will give you the strength for you and/or your family to get your day off and running.
Yields about 4–1 cup servings:
INGREDIENTS
½ Cup chia seeds
2 Cup almond milk
1 Tbsp GloryBee Montana White Clover Blossom Honey
1 ripe banana
2 Tbsp Aunt Patty's Organic Almond Butter or creamy peanut butter
DIRECTIONS
Puree banana.
Add almond or peanut butter and honey and continue to puree.
Stir in chia seeds, mix thoroughly.
Let sit overnight in the refrigerator, stir again in morning before serving.
Garnish with coarse fresh fruit and crushed banana chips.
Looking for a simpler option that doesn't require so much prep? Try the following:
Yields 1 serving:
INGREDIENTS
1 Cup almond milk
4 Tbsp chia seeds
2 tsp of GloryBee Montana White Clover Blossom Honey
DIRECTIONS
Whisk together almond milk, chia seeds and honey in a medium bowl.
Cover and chill overnight.
Top with fresh fruit, shredded coconut, nuts or granola.