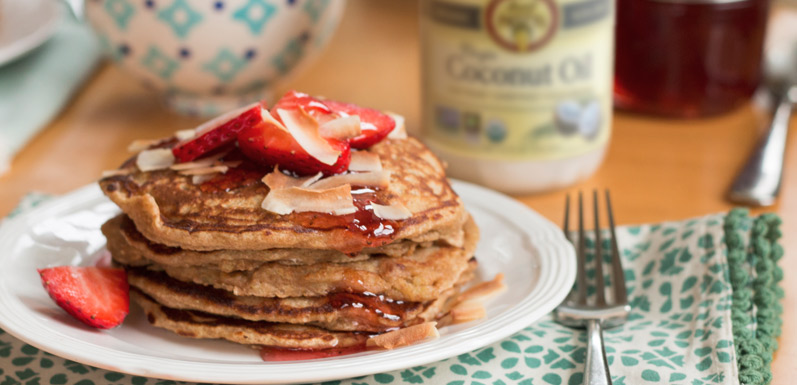 Coconut Quinoa Pancakes
Now you have an excuse to stay in your pj's with this decadent breakfast that you can serve up in the comfort of your own kitchen. Top each stack with fresh fruit, toasted coconut, and a drizzle of pure maple syrup for a morning to be remembered.
Ingredients
1 cup whole wheat or gluten-free all-purpose flour
2 teaspoons baking powder
1 ½ cups milk
1 large egg
1 cup cooked whole grain quinoa
½ cup unsweetened shredded coconut
Directions
1. In a large bowl, whisk together flour, sugar, and baking powder.
2. In a small bowl, whisk together milk, egg, and vanilla. Pour into the flour mixture and stir just until combined (careful not to over mix, some small lumps are fine). Gently stir in 2 tablespoons melted oil, then fold in quinoa and coconut.
3. In a large, nonstick skillet, warm 1 teaspoon oil over medium heat. Pour ¼ cup of batter per pancake into the pan. Cook until bubbles begin to form on the top of the pancake and bottom is golden brown. Flip pancakes, and cook until done, about 1 more minute. Repeat the process with remaining batter, adding another teaspoon of oil to coat the skillet with each new batch.