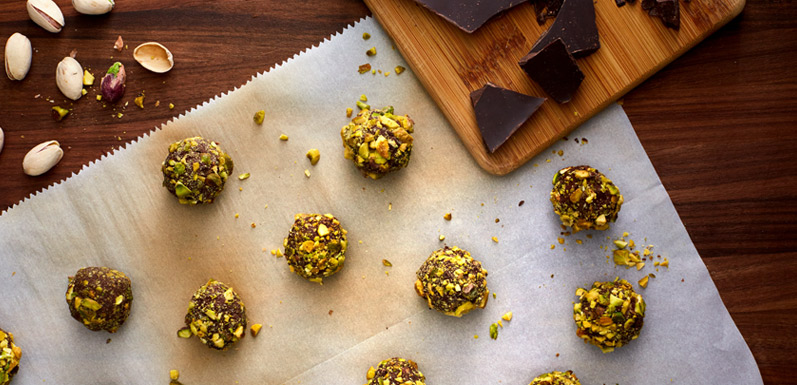 Dark Chocolate Truffles with Coconut Oil
Chocolate to the rescue! Dark chocolate truffles are the perfect bite-sized treat to keep you going. Dairy free and gluten-free, and no-bake! Treats don't get any better than this!
Ingredients
8 ounces high-quality dark or bittersweet chocolate, finely chopped
½ cup full-fat canned coconut milk
1 tablespoon Aunt Patty'sⓇ Virgin Coconut Oil
¼ teaspoon fine sea salt
½ cup finely chopped pistachios
Directions
1. Place chocolate in a small bowl. In a small saucepan, bring coconut milk, coconut oil, and salt to a boil. Immediately pour over chocolate, cover with a plate, and let sit 2 minutes. Whisk the mixture until completely smooth. Let cool at room temperature for about 1 ½ hours or until set.
2. Spread out pistachios on a plate. Scoop up the chocolate mixture in heaping teaspoonfuls and roll between your palms into balls. Roll the truffles in the pistachios to coat. Store refrigerated, but bring to room temperature before serving.