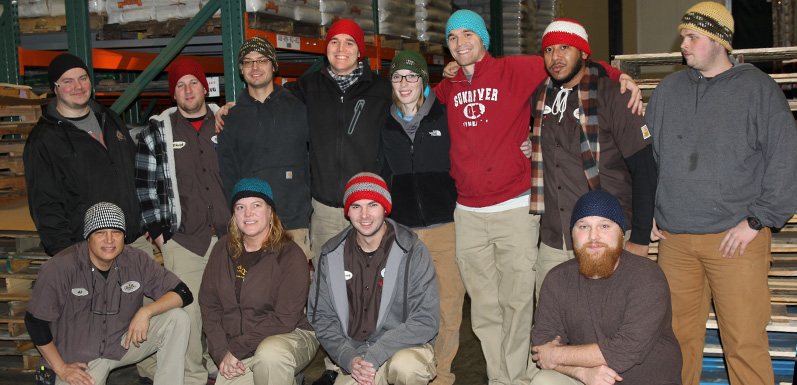 Employee's Wife Knits Hats for GloryBee Warehouse Team
Working in a warehouse in the winter can sometimes be brutally cold. The opening and closing of bay doors lets in arctic blasts of freezing air that can chill you to the bone.  Luckily for GloryBee, one of our Warehouse Specialists is so warm-hearted that he is keeping all our warehouse workers warm—with colorful handmade beanies.
In the fall, toward the end of GloryBee's softball team season, the Johnson twins admired warehouse Specialist, Dave Orr's, beanie hat that his wife made for him. When Dave told his wife, she generously made beanies for both Jon and Josiah Johnson. What a surprise! They proudly wore their beanies in the warehouse as the weather began to get cooler. When the rest of the Warehouse team saw Dave's and the twins' vibrant handmade hats, they couldn't help but admire how awesome those beanies looked.
With the holidays approaching, Dave wanted to give something special to each of his teammates, so he and his wife decided to work on a secret project—Dave found out the favorite colors of his coworkers and then went out and bought a vivid assortment of yarns with his own money. His wife proceeded to spend countless hours knitting hats for each member of our warehouse team. You may have heard of a "White Christmas"—well it was a "Rainbow Christmas" in the GloryBee warehouse this past year.
It may be dark and dreary outside during these winter months, but thanks to Dave's and his wife's kind-hearted gift, it's a brilliant splash of color and warm-hearted comradery inside the GloryBee Warehouse.