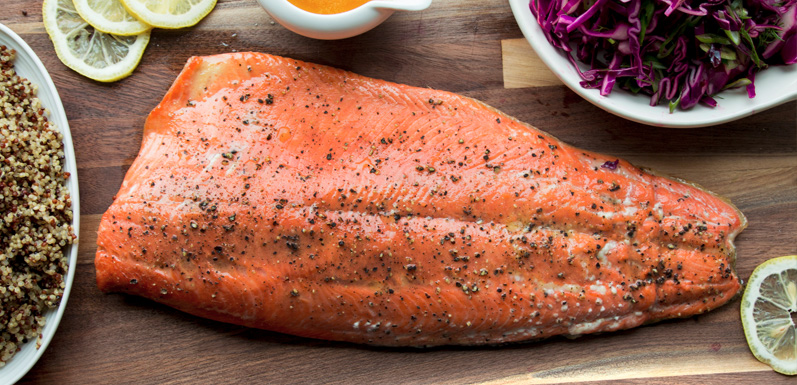 Grilled Habanero Honey Salmon
Our Habanero Honey Salmon is cooked to tender, flaky perfection in just 10 minutes on the grill! With a flavorful spicy honey glaze, you can make it your own by adding lemon slices or  cilantro to the recipe. Serve with a fresh salad and it will be the perfect meal after all your holiday cooking and baking.
INGREDIENTS
2 salmon fillets, skin on
¼ Cup GloryBee Habanero Honey
2 Tbsp Aunt Patty's Fair Trade Virgin Coconut Oil
¼ Cup lemon juice
2-3 Tbsp Aunt Patty's Extra Virgin Olive Oil
Salt and Pepper, to taste
DIRECTIONS
Rinse fresh salmon fillets with cool water, pat dry.
To keep salmon from sticking to the grill, create foil trays as a cooking surface. Rub foil with coconut oil and place fish on foil.
Squeeze lemon juice onto the fish and drizzle with olive oil, rub into the fish gently.
Drizzle slightly heated habanero honey over fish, add salt and pepper to taste.
Set grill to high heat (about 500° F) and place fish onto foil trays on the grill, skin-side down. Cook until salmon begins to separate, about 8 minutes.
Serve warm and enjoy!