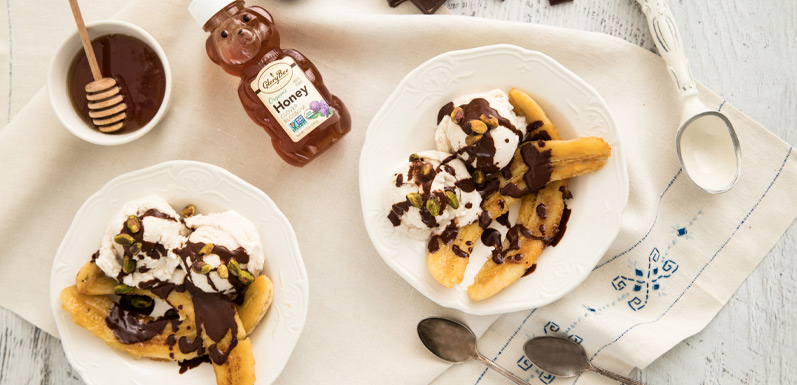 Honey Caramelized Banana Sundae
Did you know that we would not have ice cream without honeybees? Yep - it's true. Cows eat clover and alfalfa which are both pollinated by honeybees. Cows make milk which we turn into ice cream! Yet another reason why we love our honeybees.
Ice cream sundae's are a sweet way to celebrate honeybees. We turned it up a notch by adding honey caramelized bananas and a creamy, rich chocolate sauce. Try it and let us know what you think. Cheers!
Ingredients
¼ cup cocoa powder
4 tablespoons 
Glory Bee Ⓡ 
Organic Clover Blossom Honey - 
divided
1 ounce dark chocolate, finely chopped
2 large bananas, peeled and halved lengthwise
½ teaspoon flaky sea salt
1 pint coconut ice cream or vanilla ice cream
¼ cup dry-roasted pistachios
Directions
1. In a small saucepan whisk together cocoa powder and 2 tablespoons honey until cocoa is dissolved. Whisk in ½ cup water until smooth, bring to a boil, and reduce heat to simmer for 2 minutes. Whisk in dark chocolate until smooth. Set aside.
2. In a medium skillet melt coconut oil over medium. Whisk in remaining 2 tablespoons
honey until smooth, then place bananas in skillet. Cook, flipping once, until golden brown on both sides, about 1 minute per side. Remove from heat and sprinkle with salt.
3. To serve, scoop ice cream into bowls, and drizzle with chocolate sauce. Top with bananas and pistachios