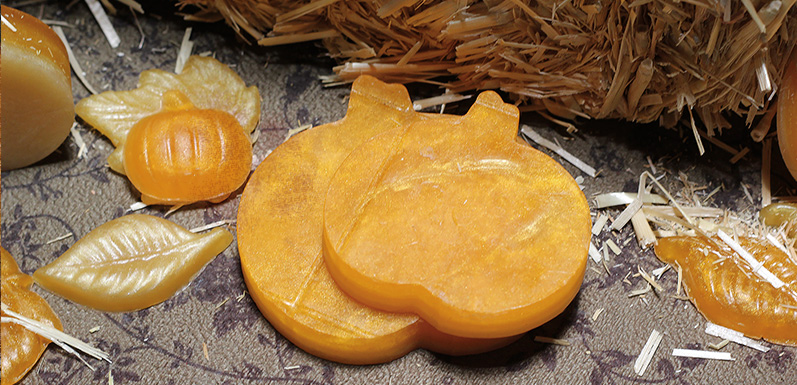 Layered Pumpkin Melt & Pour Soap
As the weather outside gets cooler, it's the perfect time to turn up the heat, melt some soap and make festive fall pumpkins. Just alternate colors and scents and custom make a variety of unique pumpkin soaps to celebrate the autumn months.  Being mindful of the temperature of the soap is critical, so be patient as you wait for the bottom layers to harden. New layers should not be too hot or they will melt the layers beneath them.  These pumpkin soaps are great for party favors or for Halloween and Thanksgiving decor.
INGREDIENTS & SUPPLIES
3 lb Translucent Glycerin Soap Base
Gel Tones: School Days Orange and Slicker Yellow
Essential Oils: Sweet Orange, Lemon, Clary Sage
Soap Slicer
Pumpkin Cookie Cutter
Metal Cookie Sheet with a Lip Around the Edges
Rubbing Alcohol (In spray bottle)
INSTRUCTIONS
Cut translucent glycerin soap into 1 inch cubes with a sharp knife or our soap slicer. Melt 1 lb in a double boiler or a glass bowl in microwave – about 30 seconds at a time until melted.
When melted, add each fragrance (.2 oz ea) and colorant: orange (6 drops) and stir. Add more if desired.
Slowly pour into cookie sheet. Spray rubbing alcohol over the top. This will eliminate the air bubbles and help adhere the layers together.
While this layer is setting up, repeat steps 1-3 using the yellow colorant this time.
When the yellow layer is setting up, repeat steps 1-3 using the orange colorant again.
Once all the layers are set up, but still warm, use the cookie cutter to press through the three layers of soap. Repeat until you have cut out as many as possible. Be sure to cut close to each other in order to get as many pumpkins as you can.
Once all shapes have been cut, turn over cookie sheet allowing molded soap to come apart from unshaped soap. Re-melt the excess soap and pour into another soap mold or if you have a smaller cookie sheet, cut more pumpkins. These will not be layered but will be scented and decorative.