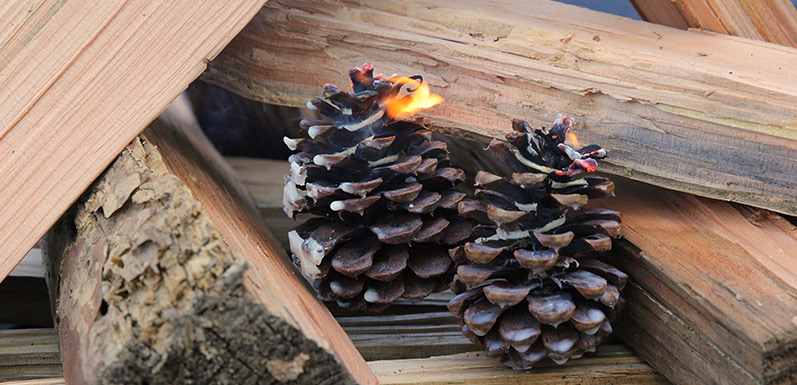 Pine Cone Fire Starters
Keep off the winter chill this season with these pinecone fire starters. They're a great way to get your fire roaring, and a few drops of essential oils can add an extra dose of cheer in your home. We collected fallen pinecones to keep everything all natural, and used some left over supplies to bring these together in an inexpensive way. They also make great decoration and smell wonderful while waiting to be used.
Ingredients

Pinecones (ponderosa works best)
Candle Wax
(flakes or pastilles work great!)
Wicking (any kind will work)
Double Boiler
Wooden Spoon
Wax Paper
Clean aluminum cans (Optional)
Essential Oils
or candle fragrance (Optional)
Directions

1. Add your wax to your double boiler. You can use soy wax or beeswax, but around here we tend to reach for the beeswax first.
2. While your wax melts down, wrap your wicking around the pinecones, starting at the base and winding up. Leave a little extra wicking sticking out of the top, just like a candle. We used HTP wicking, best suited for beeswax.
3. Once your wax melts down, you can add your essential oils and candle dyes, if you wish. We used cinnamon on some of our pine cones and spruce on others for a nice winter feel. Give it a good stir to make sure it is combined.
4. Remove your wax from heat. Using the extra wick as a handle, dip and roll your candles in the wax to coat. Our tip—a clean aluminum can is great to pour the wax into for dipping. Most pinecones will fit right inside, but it is best to test this before you transfer your wax. 2-3 coats should cover the pinecone nicely.
5. Set pinecones on wax paper to dry. You can speed up the process by placing them in the fridge.
That's it! Set in your fire place and light the wick to start the cozy vibes.