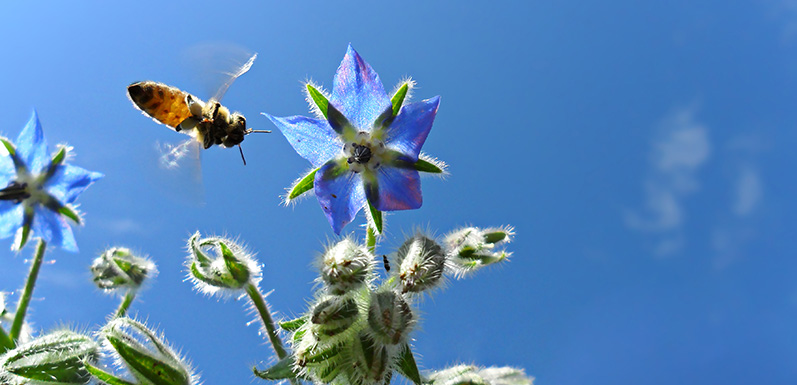 Plant these to SAVE the BEES
Why do we need to save the bees?

In the 1980's honey bees began to die off at alarming rates. Scientists diagnosed this tragic phenomenon as Colony Collapse Disorder (CCD). No single reason has been found to be responsible for the large losses of honey bees and more research is needed to find a cure and help save the bee.
How YOU can help SAVE the BEE
Purchase organic products pollinated by bees- as consumers of food products, we have strong purchasing power. Every time you buy organic, you impact those sales—forcing grocery stores to supply more organic foods. This helps bees, organic farmers and our overall wellness.
Eliminate pesticide use- never use harmful pesticides, particularly brands containing neonicotinoid ingredients.
Become an urban beekeeper-keeping your own bee hives will help boost and strengthen bee populations, pollinate your garden and preserve the knowledge and ancient art of beekeeping.
Plant Bee-Friendly plants- Nourish and attract honey bees with nectar producing plants.
The perfect Honey Bee Seed Packets
Honey Bees like variety. Each hive has different health needs and bees choose which flowers they pollinate based on their hive's need at the time. Help the honey bees have the variety of blossoms they need with Honey Bee Buffet Flower Mix seed packets. They're filled with a variety of natural flower seeds specifically chosen to attract honey bees. Bright, beautiful and bee-friendly!
Be friendly and plant these Bee-Friendly plants
Flowers
Clover
Dandelions
Sunflowers
Roses
Zinnias
Clematis
Geraniums
Fruits & Veggies
Blackberries
Cucumbers
Squash & Gourds
Peppers
Strawberries
Melons
Raspberries
Shrubs
Honeysuckle
Indigo
Blueberry
Button Bush
Lavender
Privet
Rosemary
Trees
Fruit Trees
Maple
Crabapple
Magnolia
Poplar
Sycamore
Black Gum
GloryBee and Honey Bees
In 1975 GloryBee began as "Dick's Bee Supplies". We sold beekeeping gear to local beekeepers and soon that same year we started to sell honey. A lot has changed in the past 42 years, but one thing that has remained constant is our love for honey bees. To find out more about how you can SAVE the BEE click here.