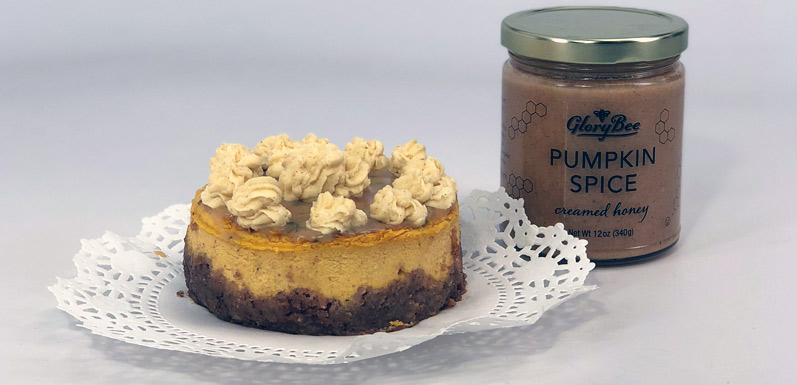 Pumpkin Honey Cheesecake
How much pumpkin spice honey is too much?? As far as we can tell, it isn't possible to have too much! We worked our new pumpkin spice into nearly every part of this cheesecake, and it came out amazing. Try it out!
Pumpkin Cheesecake
Filling:
4 packages (8 oz each) softened organic cream cheese
½ cup GloryBee Pumpkin Spice Honey
¼ cup organic brown sugar
1 cup of organic pumpkin puree
1 ½ Tbsp pumpkin pie spice
2 Tbsp organic heavy whipping cream
4 large organic eggs
1 tsp vanilla
Directions:
Preheat oven to 350 degrees.
In a large mixing bowl, combine with a hand blender softened cream cheese, pumpkin puree, pumpkin pie spice, brown sugar, honey and vanilla, beating just until smooth.
Add eggs one at a time to the cream cheese mixture. Mix until well blended and then pour into prepared pie crust.
Wrap the bottom of the spring form pan in foil. You may need to apply several layers of foil to provide even coverage. Place spring form pan in a large roasting pan in the oven. Fill the roasting pan with water until it reaches 1 inch up the sides of the pan.
Bake for 1 hour and 15 minutes or until a knife inserted comes out clean. Remove cheesecake from oven and cool thoroughly.
Sage Browned Butter Sauce Topping:
Ingredients:
¼ cup organic unsalted butter
2 Tbsp GloryBee Pumpkin Spice Honey
1 tsp organic brown sugar
2 Tbsp organic heavy whipping cream
1 Tbsp finely chopped fresh sage
1 tsp vanilla extract
Directions:
Heat butter, sugar and honey in a small saucepan over medium high heat, stirring constantly until the butter begins to brown.
Reduce heat to medium. Stir in whipping cream, sage and vanilla. Simmer until sauce begins to thicken, about 2-3 minutes.
Cool brown butter sauce completely and spread over cooled cheesecake.
All Natural Whipped Cream
Ingredients:
1 cup of organic heavy whipping cream
1 tsp vanilla extract
¼ cup mild raw honey (Montana White Clover, Clover, etc).
Directions:
In a cold bowl and by using the hand mixer, whisk all ingredients on a low speed until stiff peaks form. Do not over mix. Use whipped cream as a topping for Pumpkin Cheesecake.