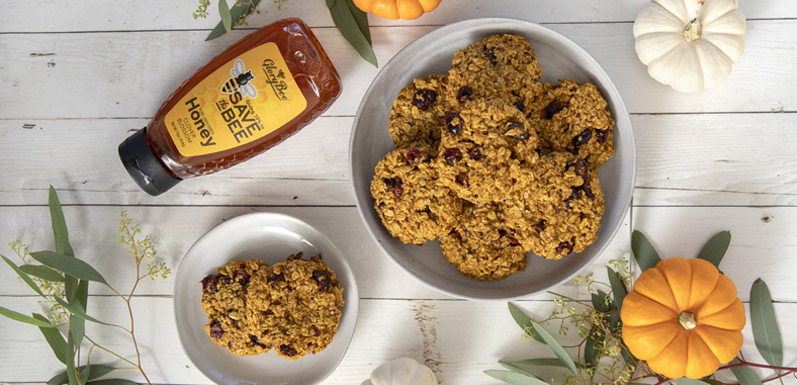 Pumpkin Spice Breakfast Cookies
We get it: Sometimes you just need a cookie! But you don't have to feel guilty about this cookie - a healthy spin with a pumpkin spice kick. Our Pumpkin Spice Breakfast cookies are a great, whole grain and gluten-free option. And just because they're hearty enough to eat for breakfast, doesn't mean they're lacking in flavor goodness. Try adding some chocolate or coconut chips to the recipe for extra sweetness. Enjoy!
Ingredients
¼ cup Aunt Patty's Unrefined Virgin Coconut Oil
¼ cup GloryBee SAVE the BEE honey
1 cup rolled old fashioned oats
1 cup quick cooking oats
2/3 cup dried fruit (cranberries, diced dried apples, or diced apricots)
¼ cup ground flaxseed
1 tsp pumpkin pie spice
½ tsp kosher salt
½ cup pumpkin puree, applesauce or pearsauce
2 eggs, beaten
Directions
1. Preheat oven to 350 degrees.
2. In a small microwave safe bowl, melt coconut oil in the microwave. Add honey and whisk until incorporated.
3. In a large bowl, combine oats, dried fruit, flaxseed and spices. Mix until well blended. Add honey and coconut mixture along with pumpkin puree and eggs. Combine all ingredients.
4. Scoop out ¼ cup sized cookies and place on lined baking sheet. Gently flatten cookies as they do not flatten while baking. Bake in 350 degree oven for 18-20 minutes until edges of cookies are lightly browned.
5. Let cookies cool on baking sheet, then transfer to an airtight storage container. Cookies will stay fresh for about a week. Enjoy!