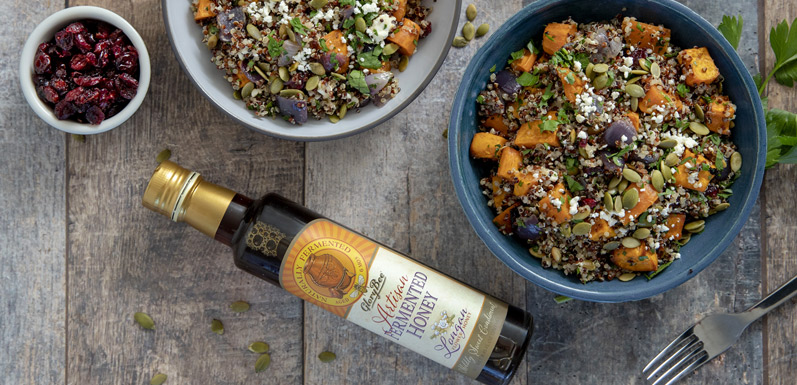 Quinoa and Toasted Sweet Potato Salad
If clean eating is in your 2019 plans, we've got the perfect salad for you. Made with only real food ingredients, this Quinoa and Toasted Sweet Potato Salad will not disappoint. The Artisan Fermented Honey gives a tart kick to balance the flavors of the toasted sweet potatoes and cranberries. Give it a try and let us know what you think!
Ingredients
2 ½ cups peeled and cubed sweet potato
1 ½ cups red onion, cubed (same size as sweet potato)
2 Tbls olive oil
1 tsp kosher salt
2 ½ cups of water (or low-sodium chicken broth – for cooking quinoa)
1/3 cup dried cherries or cranberries
¼ cup pepitas or sunflower seeds
¼ cup fresh parsley, finely chopped
2 oz. feta cheese
2 Tbls olive oil
Salt and pepper to taste
Directions
1. Preheat oven to 400 degrees. Add sweet potato and red onion on a lined baking sheet. Season with 2 tablespoons of olive oil and 1 teaspoon of kosher salt. Toss all to coat. Bake for 20-30 minutes until vegetables are cooked through.
2. Add quinoa and water (or chicken broth) in a small saucepan. Stir and bring mixture to a boil. Cover and reduce to a simmer and cook for 15 minutes until done. Remove from heat and fluff the quinoa with a fork.
3. In a large bowl, add all ingredients. Gently toss and mix until combined. Enjoy!