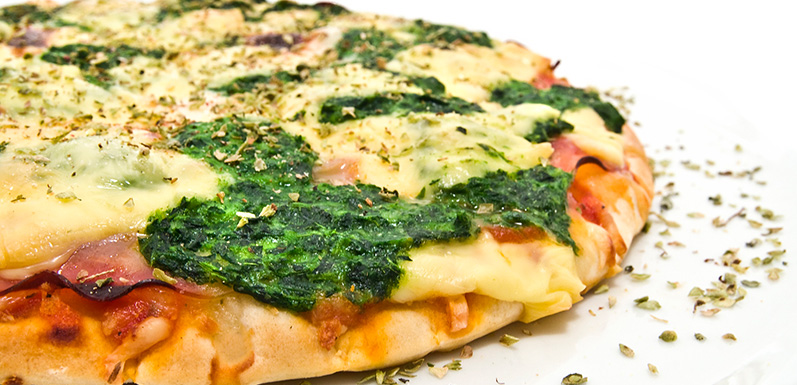 Quinoa Pizza Crust
Happy National Pizza Day! Here's a better-for-you homemade quinoa crust idea to try for your next pizza night. To make personal-sized pizzas for picky eaters or a pizza making party, you can cook multiple crusts at a time and once cooked, place on a cookie sheet for everyone to top their own.
INGREDIENTS:
1 Cup quinoa
1 Cup water warm
1 Tbsp Aunt Patty's Organic Apple Cider Vinegar
2 Tbsp coconut flour (not homemade flour)
1 tsp dried basil
½ tsp dried thyme
1 tsp unrefined salt
2 Tbsp Aunt Patty's Extra Virgin Olive Oil
1-2 Tbsp Aunt Patty's Avocado Oil
DIRECTIONS:
Preparation:
Combine the quinoa, warm water, and apple cider vinegar. Cover, and leave in a warm place for 12 to 24 hours.
Cooking:
Preheat the oven to 450° F, placing the cast iron pan(s) in the oven in the top third of the oven to preheat as well.
Drain the quinoa well in a fine sieve and rinse well to remove any bitterness from the quinoa.
Combine quinoa in a food processer with the rest of the ingredients, except the olive oil. Blend until well combined. Add the oil and blend just enough to combine.
Remove pan(s) from oven and add enough avocado oil  to completely coat the bottom. Add some (or all) of the batter, depending on size of pan. Spread out with a heat safe utensil, evenly. Place back in oven.
Cook for about 7 to 10 minutes for smaller sized crust, or 10 to 15 minutes for larger pans, or until the bottom of the crust is browned. Once desired browning is achieved, flip the crust and cook for another couple of minutes.
Remove pan(s) from oven and add desired sauce, cheese and other toppings. Return to oven to heat through (enough to the melt cheese).
If you're making multiple crusts, place on a cookie sheet to top separately and cook together.
Serve immediately.