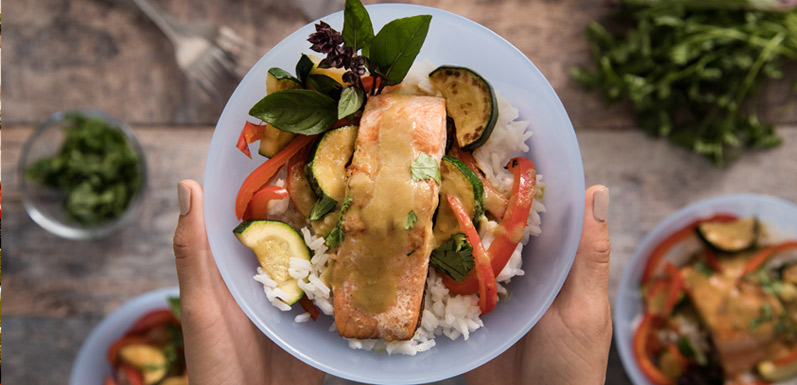 Salmon in Thai-Style Green Coconut Curry
This Salmon in Thai-Style Green Curry tastes clean and vibrant.  So comforting, yet with bold flavors, it is loved by kids and adults alike. It's easy to make and as good as your favorite takeout. Enjoy meal
Ingredients
¼ cup green curry paste
1 cup vegetable broth
1 tablespoon fish sauce or ½ teaspoon fine sea salt
1 tablespoon packed brown sugar
1 red bell pepper, seeded and thinly sliced
1 medium zucchini, halved lengthwise and cut into ¼" thick half moons
1 pound salmon, cut into 4 equal pieces
2 tablespoons fresh lime juice
Chopped cilantro
Thai basil leaves
Cooked jasmine rice, for serving
Directions
1. In a large skillet, melt coconut oil over medium heat. Add curry paste and cook, stirring, until fragrant and starting to brown, about 4 minutes. Stir in creamed coconut, broth, fish sauce or salt, and brown sugar. Stir to dissolve sugar.
2. Add pepper and zucchini, bring liquid to a simmer, and cook 5 minutes. Nestle salmon pieces into the skillet and cook, basting salmon with cooking liquid, until cooked through, about 8 minutes.
3. Transfer salmon to a serving dish. Add lime juice to skillet and stir in. Taste and add more lime juice and/or salt or fish sauce to taste. Pour sauce over salmon.
4. Garnish with cilantro and basil, and serve over rice.