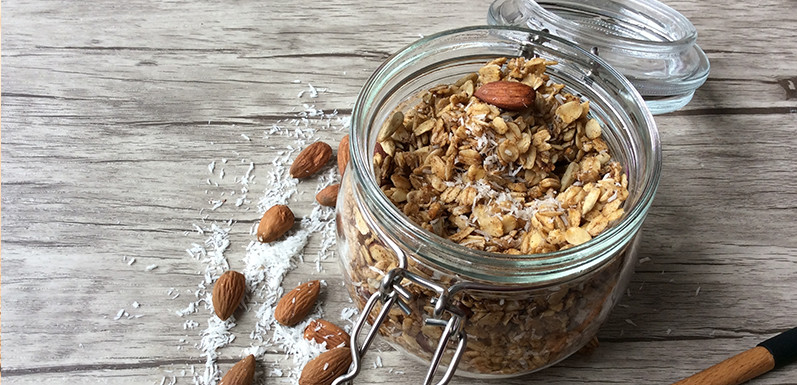 Spring Break Travel Snacks
Over the years, Dick and I have taken our family on many road trips. We found the best way to keep the kids, and now our grandkids happy for extensive lengths of time is to keep them fed. For travel these days, I rely on my very own Aunt Patty's' Trail Mixes, filled with some of my favorite ingredients, to keep their appetites at bay and to keep them happy.
My line of premium trail mixes are hearty and full of flavor with your best health in mind. None of my mixes use harmful preservatives, especially sulfur. Any oil used during processing is Non–GMO and expeller pressed. All of the chocolate used is made with only pure vanilla extract. Best of all, they taste great!
Here's a great go-to recipe when I want to make a travel snack from scratch:
Aunt Patty's Coconut Granola Ingredients:
2 Cups Old-Fashioned Rolled Oats
¾ Cup Shredded Sweetened Coconut
½ Cup Chopped Raw Almonds
1/3 Cup Raw Pumpkin Seeds
2 Tbsp Aunt Patty's Coconut Sugar
1 tsp Aunt Patty's Cinnamon
¼ tsp Salt
4 Tbsp Aunt Patty's Coconut Oil, melted
½ Cup Pure Maple Syrup
1 tsp Aunt Patty's Vanilla Extract
¼ tsp Almond Extract
Directions:
Preheat oven to 300 degrees Fahrenheit. Line a large baking sheet with parchment paper. Set aside.
In large bowl, combine oats, coconut, almonds, pumpkin seeds, coconut sugar, cinnamon, and salt.
In small bowl, whisk together coconut oil, maple syrup, vanilla extract and almond extract.
Pour liquid mixture over dry ingredients. Stir until dry ingredients are well coated. Pour onto lined cookie sheet and spread out into an even layer.
Bake for 30 minutes, stirring every 10 minutes.
Let cool and then store in airtight container for up to 30 days.