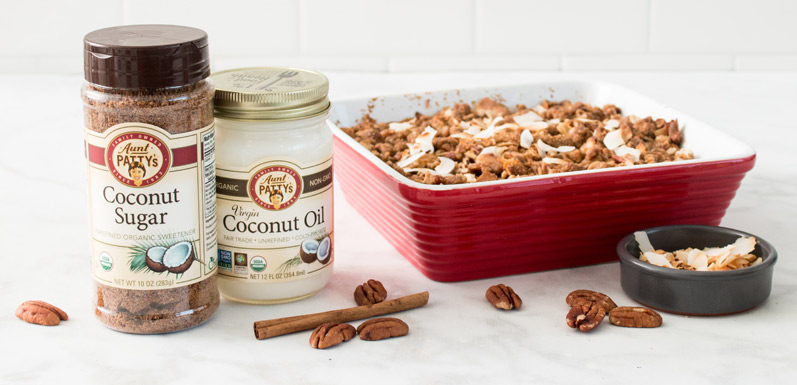 Sweet Potato Coconut Casserole
Thanksgiving may be over, but you can still savor the flavor of sweet potatoes year long. Sweet potatoes are a versatile ingredient and can be used in many recipes from pies to enchiladas. This warm and cozy Sweet Potato Coconut Casserole takes some preparation, but we promise it'll be a dish you'll want to make again. Enjoy!
Ingredients
4 large sweet potatoes (about 3 pounds)
½ cup canned coconut milk
2 eggs
1 teaspoon cinnamon
¾ teaspoon fine sea salt, divided
½ cup chopped pecans
½ cup unsweetened shredded or flaked coconut
⅓ cup all-purpose flour
Directions
Preheat oven to 400℉. Lightly oil a 9 or 10" square baking dish.
Place potatoes directly on oven rack with a sheet pan on the rack below to catch drips. Bake until tender, 45-60 minutes. When cool enough to handle, scoop out flesh and transfer to a large bowl or food processor. Mash or process until smooth. Mix in ½ cup sugar, coconut milk, 3 tablespoons coconut oil, eggs, cinnamon, and ½ teaspoon salt. Scrape into baking dish.
In a medium bowl combine ½ cup sugar, 3 tablespoons coconut oil, pecans, coconut, flour, and ¼ teaspoon salt. Mix until crumbly and sprinkle over potatoes.
Loosely cover baking dish with foil and bake 30 minutes. Remove foil and bake until browned, 10 minutes more. Cool 10 minutes before serving.