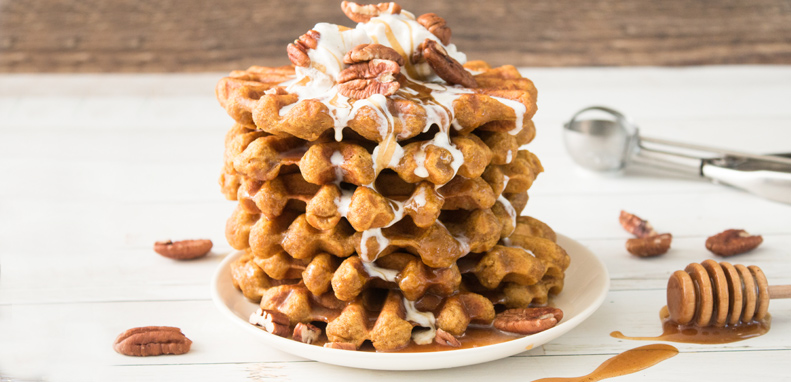 Who doesn't love waffles? Really, is there anyone? We love waffles and taking the time to share breakfast with your loved ones. With our new Pumpkin Spice Honey, you can brighten up the waffle flavors. You can even serve these as a dessert - drop a scoop of vanilla ice cream on top and drizzle extra Pumpkin Spice honey on top. What a treat!
Ingredients
1½ cups all-purpose flour
¾ cup whole wheat flour
2 teaspoons baking powder
1½ teaspoons pumpkin pie spice
½ teaspoon fine sea salt
¼ teaspoon baking soda
1 cup pumpkin puree
½ cup buttermilk
2 eggs
Vanilla ice cream, for serving
Directions
In a large bowl whisk together flours, baking powder, spices, salt, and baking soda. In a medium bowl whisk together pumpkin, coconut oil, buttermilk, honey, and eggs. Stir wet ingredients into dry ingredients until just combined.
Preheat a waffle iron and brush lightly with coconut oil. Using about ½ cup batter per waffle, pour batter into center of waffle iron. Cook until golden brown following manufacturer's instructions. Transfer to a baking sheet and repeat with remaining batter.
To serve, top waffles with ice cream and drizzle with honey.