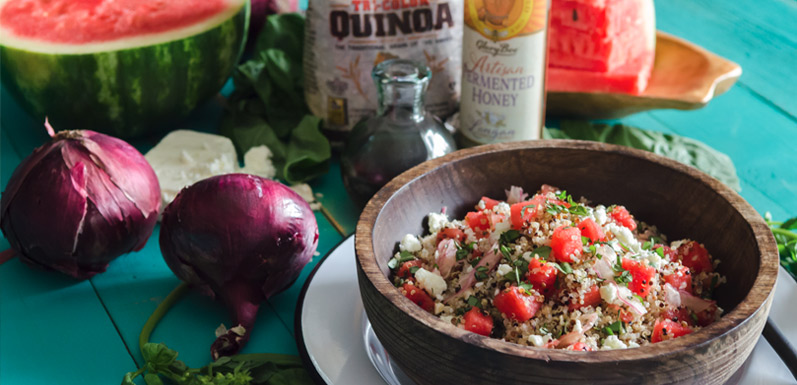 Watermelon Quinoa Salad with Fermented Honey
Looking for a nutritious, easy, and tasty side dish to bring to a summer barbeque? Looking for a unique way to get your family to eat quinoa? Wondering if you'd tasted the best quinoa recipe of the summer? If you answered yes to any of these questions, we'd encourage you to give this recipe a go.
Be sure to use only the best ingredients for this recipe from Bob's Red Mill and GloryBee.
Time
Prep Time: 20 minutes
Cook Time: 12 minutes
Rest Time: 30 minutes
Ingredients
1/4 cup GloryBee Fermented Honey
2 Tbsp Olive Oil
1 Tbsp fresh Lemon or Lime Juice
1/2 tsp Salt
3/4 cup very thinly sliced Red Onion (3 oz)
1/2 cup Organic Tri-color Quinoa
3/4 cup Water
Pinch Salt
4 cups cubed seeded Watermelon (1-1/2#)
1/2 cup crumbled Feta Cheese (3 oz)
1/4 cup chopped fresh Basil or Mint (1/2 oz)
Directions
In a small, non-reactive bowl, whisk together fermented honey, olive oil, citrus juice, and salt.  Add thinly-sliced red onions and chill.
Bring water and a pinch of salt to a boil, then add quinoa.  Reduce heat to low and simmer until grains are soft, about 12 minutes.  Drain off hot water, rinse in cool water, and drain thoroughly.  Place in a large bowl or spread onto a sheet tray and allow to cool and dry thoroughly.
To serve, toss watermelon with red onions and dressing.  Gently stir in cooked quinoa and top with feta and basil.