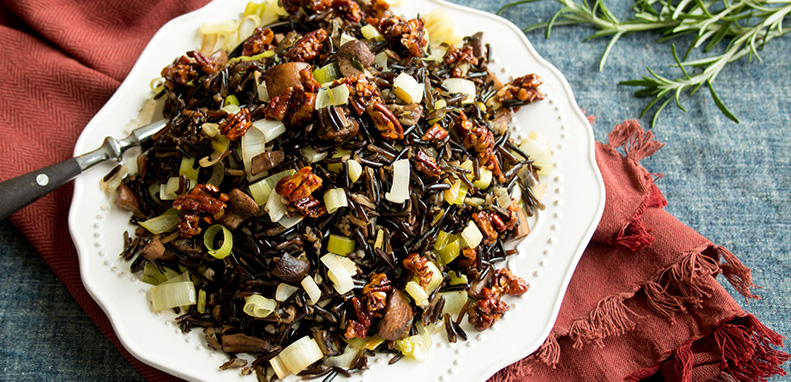 Wild Rice Dressing with Candied Pecans
Thanksgiving is less than two weeks away! You heard right, it'll be here faster than you know it. Let the GloryBee family take some stress out of the day by providing a few recipes that we know will tickle your taste buds and please the crowd at your table.
Enjoy one of our new recipes - Wild Rice Dressing with Candied Pecans. It's an excellent whole grain substitute from standard bread based dressings. It has a simple yet wonderful flavor that is the perfect accompaniment to any roast bird. Cheers!
Ingredients
2 Cups wild rice
1 tsp fine sea salt, divided
1 Cup pecans (chopped and toasted)
3 Tbsp Aunt Patty's® Coconut Sugar
3 Tbsp olive oil
2 Medium leeks (cleaned and sliced)
12oz mushrooms (cleaned and chopped)
1 Tbsp fresh rosemary (minced)
Directions
Bring 4 cups water to a boil in a medium saucepan. Add rice and ¾ teaspoon salt, lower heat to a simmer, and cook, covered, until rice is tender, about 50-60 minutes. Drain excess liquid, if needed.
To a small saucepan over medium heat, add pecans, sugar, ¼ teaspoon salt, and 1 tablespoon water. Cook, stirring, until the sugar is melted and coats the pecans, 3-5 minutes. Pour pecans onto a parchment-lined baking sheet to cool.
Add oil to a large skillet over medium heat. Add leeks and cook, stirring, until softened, 5 minutes. Add mushrooms and rosemary and cook until softened, 5 minutes more.
In a serving bowl, stir together rice, leeks, and mushrooms. Taste and season with more salt if needed. Top with candied pecans.