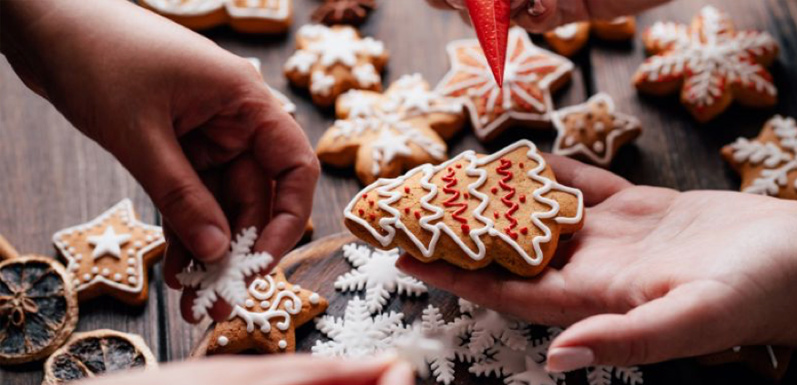 6 Festive Christmas Cookie Ideas for Your Bakery
Customers look forward to the themed goods they can buy during the holiday season as they get in the festive mood. Christmas is the time of giving, and there are plenty of ways to share the holiday spirit with your customers. If you are looking for some ideas, these are six festive Christmas cookie ideas for your bakery that your customers will love.
Wrapped Presents
There's always one thing that children look forward to around Christmas time: the presents they're eagerly awaiting. Reminding them of their reward for being good all year is a perfect option for adding fun to your baked goods case. A couple of early presents never hurt anyone, and these cookie designs fit perfectly with this season's theme.
Santa Clause
No one has as much authority over Christmas as jolly old Saint Nick himself. This north pole local is an icon who continues to excite people for the holidays. If you want to capture those nostalgic feelings in your food, Santa Clause is a surefire way to accomplish that. Adding some honey for the sweet spirit of Christmas is sure to give your clients a welcome surprise as they dig into a Santa-shaped cookie.
Elves
Where would Santa be without his little helpers? Elves have been a part of the Christmas legend for years. You don't have to stick to their traditional green garbs, either. Use these cookie designs to show off your decorating skills and explore fun attire for your elf arrangement.
Christmas Trees
Rock around the Christmas tree with some cookies that resemble the popular home centerpiece for this time of year. Christmas trees are great little reminders of the fun traditions families participate in each year. A cookie platter forest will look wonderful in your display and in the homes of your customers.
Candy Canes
These sweet and delicious candies have a special place in people's hearts. You can also explore festive flavors in these cookies by mixing in peppermint extract or peppermint pieces to make a unique flavor. Mint chocolate cookies are also a great option that will delight customers. The colors and shape of these treats are a hallmark of this holiday and are as easy to love as they are to eat!
Ornaments
Everyone notices a lovely ornament on the tree, and the shape of these decor items lends itself to cookies. There are several different kinds of classic ornaments to choose from, but these cookies allow for nearly limitless creativity, so feel free to explore fun flavors and designs!
These six festive Christmas cookie ideas for your bakery are certainly worth considering this season. As you prepare for the holiday rush, it's a good idea to stock up on some flour, eggs, and other necessary ingredients. Picking up wholesale honey will ensure you have enough to add sweetness to every bite. The best part of creating various kinds of cookies will be seeing people's faces as they pick out their favorites from your case.