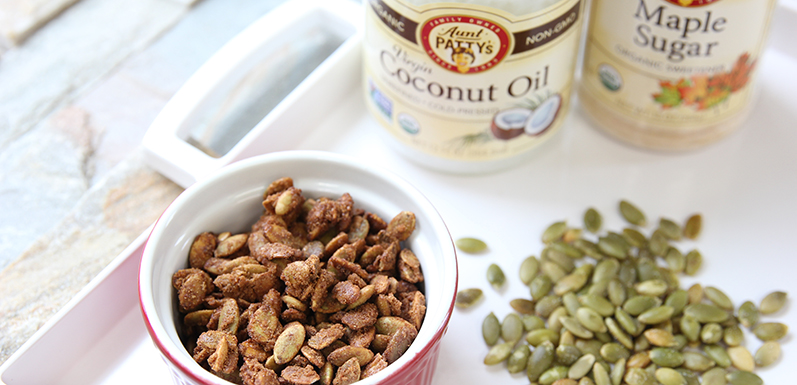 Aunt Patty's Sweet & Spicy Pumpkin Seeds
These sweet and spicy pumpkin seeds are a crowd-pleaser and a good source of magnesium, zinc and omega-3 fats. Great for a light snack that will keep you coming back for more!
INGREDIENTS
4 Cups Aunt Patty's Raw Pumpkin Seeds
4 Tbsp Aunt Patty's Virgin Coconut Oil
1 egg white
2 tsp kosher salt
1 tsp Aunt Patty's Organic Cayenne Powder
2 tsp Aunt Patty's Organic Grade A Ground Cinnamon
1 ¼ Cups Aunt Patty's Maple Sugar 
DIRECTIONS
Preheat oven to 350° F.
Whisk together salt, cayenne, cinnamon and maple sugar.
Slightly warm coconut oil and add. Whisk in egg white. It helps if you warm this mix slightly more over a hot water bath or a stove burner – just don't overcook the eggs.
Add pumpkin seeds to mixture. Mix with a spatula until seeds are coated.
Pour onto a silpat-lined sheet pan (or any kind of nonstick baking surface) and toast for 5 minutes.
Remove from oven and stir. Replace in oven and repeat process twice until seeds are toasted and sugar has 'puffed' – about 15 minutes depending on the oven.
Remove and cool, stirring one final time. For best results, store in an airtight container. Good for approximately 2 weeks.