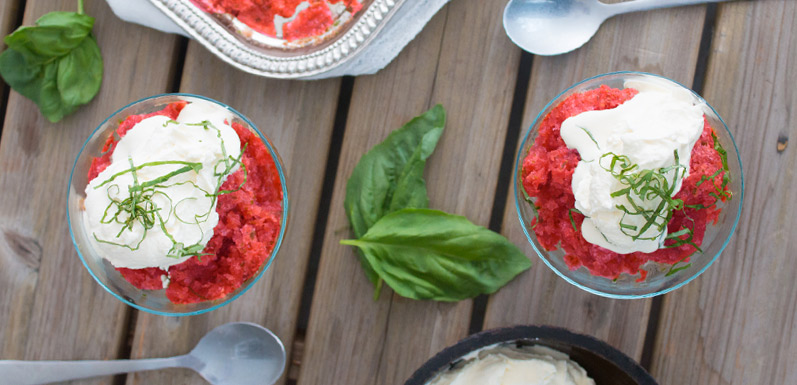 Basil Watermelon Granita with Agave
Granitas are our secret tool to impress dinner guests. A traditional Italian iced dessert similar to a shaved ice or sorbet, the basil in the recipe gives your taste buds a delectable treat.
Ingredients:
6 cups watermelon cubes
1 cup loosely-packed basil leaves, plus more for garnish
Juice and zest of 1 lemon (about 3 tablespoons juice)
1 cup heavy cream
Directions
1. In a blender combine watermelon, basil, ¼ cup agave, and lemon zest and juice. Blend until completely smooth. Pour into a 9 x 13" pan and place in the freezer.
2. Every 30 minutes, remove granita from the freezer and scrape with a fork. The granita should be ready in 2½-3 hours.
3. In a medium bowl, combine cream and 1 tablespoon agave. Beat with a hand mixer until softly whipped. Divide granita between serving bowls and top with a dollop of whipped cream and a fresh basil leaf to garnish, if desired.