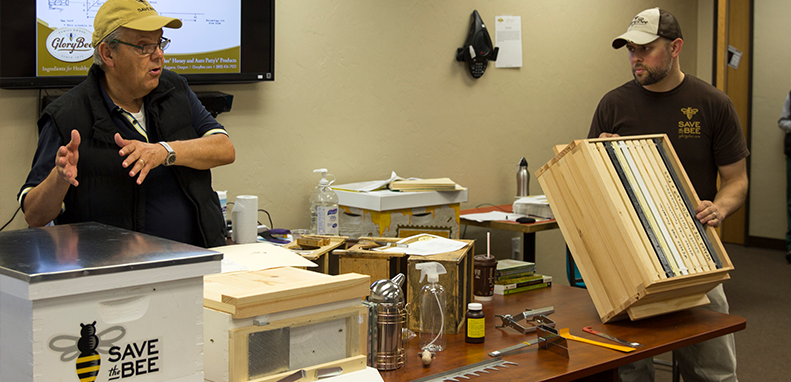 Become a Beekeeper- Winter Beekeeping Classes at GloryBee
Are you ready to become a beekeeper? Now is the perfect time to start learning the time-honored tradition of keeping bees. The beekeeping season kicks-off in mid-April. These winter months provide the perfect opportunity to discover all you to need to know to start your beekeeping adventure.
Beekeepng 101- GloryBee's Crash Course in Beekeeping
(Cost: $25.00- includes book: "First Lessons in Beekeeping".)
Learn from the experts! Join Mike France and Erica Fosnight, GloryBee's veteran beekeepers , on a fast-paced, in-depth discussion of beekeeping basics.
Topics Include:
Types of Bees- Which type is right for me?
The Bare Minimum- what do I need to get started?
Hives- Supers, Frames, Screened Bottoms- all the parts that make up a hive.
Feeding the hive- What do bees eat and how can I help them?
Tools of the trade-how to use J-Hooks, smokers and other beekeeping essentials.
Protective Clothing- Bee Jackets, veils, and suits.
Caring for my bees-Hive location and medications
Honey!- learn extraction basics
We only have 25 spots available and they are filling up fast. Call 800.456-7923 to register.
Beekeeping 101- Crash Course in Beekeeping
Saturday January 21
10am-1pm
GloryBee Factory Store
Cost: $25.00 (Includes book: "First Lessons in Beekeeping")