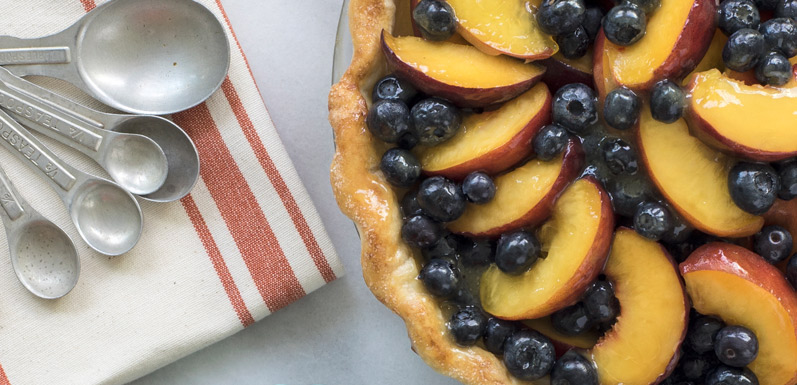 Fresh Blueberry Peach Pie with Honey Peach Glaze
Peach pie, oh my! Does anything sound better than a homemade peach pie during the summer time? We've updated this summer classic so that the crust utilizes coconut oil instead of lard or butter. For the fresh fruit filling, our secret ingredient is our Blueberry Honey. Dish up a slice with your favorite vanilla ice cream and enjoy!
Ingredients
For crust:
2 ½ cups organic pastry flour
1 tsp baking powder
1 large organic brown egg
½ cup of cold water
Directions
Combine salt and pastry flour together in large bowl. Cut in cold coconut oil until mixture forms small pea size crumbs.
In another bowl, whisk together egg, vinegar and water. Add baking soda and set aside for 3 minutes to rest.
Combine wet ingredients to dry ingredients in the large bowl. Once all combined, chill crust for 10-15 minutes. Once chilled, roll out crust on floured surface until slightly larger than desired pie pan – about 13". Gently roll pie crust around rolling pin and unroll over pie pan. Gently press pie crust into place, turn edges under and crimp.
Bake unfilled pie crust for 15 minutes at 350 degrees or until golden brown.
For filling
7-9 free stone peaches
¾ to 1 cup of fresh blueberries
Lemon juice
Directions
Peel and slice all peaches. Set aside 2 peaches for glaze mixture. Combine remaining peaches, all blueberries and cornstarch together in a large bowl. Squeeze lemon juice over peaches to prevent browning.
For glaze, combine remaining 2 peaches, honey, cinnamon and nutmeg in a blender. Blend until smooth. You may need to add water, 1 Tbsp. at a time to create smooth glaze texture. Transfer glaze to sauce pan and cook glaze until warm.
Once glaze has cooled a bit, combine with blueberries and peaches. Add fruit to pie shell and refrigerate for at least 2 hours. Serve with homemade vanilla ice cream.