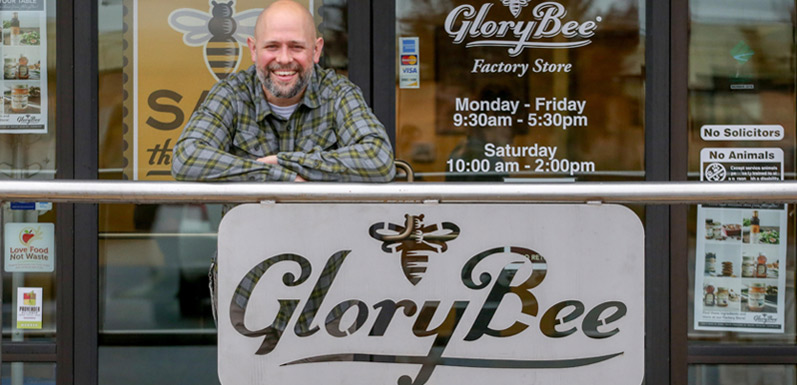 GloryBee Honored With Social Impact Award
GloryBee is thrilled to be recognized with the Social Impact Award by the Register Guard's Innovation and Talent Celebration for our Save the Bee Initiative, which raises money to assist research, education, and awareness about the plight of honey bees and what can be done to help. It is a high honor to be recognized by the local community alongside so many others who are making a difference and to be able to celebrate the accomplishments and innovations in Lane County.
From the Register Guard:
Throughout its 44 years, GloryBee has stayed true to its core value of serving as a good steward for people and for Earth. Bees, especially, are at the forefront of this stewardship; colony collapse disorder, however, has threatened these all-important pollinators. GloryBee president Alan Turanski says "it's not enough to be in the industry and sell honey and beekeeping supplies. We need to be doing more." The Save the Bee initiative launched in 2012; GloryBee donates 1 percent of its beekeeping and honey sales to Save the Bee nonprofit organizations. With more than 50 partners presently, the initiative raised more than $316,000 in 2017. Funds raised assist Oregon State University and Washington State University honey bee labs with research. Money also funds education and awareness efforts to protect bees and maintain healthy colonies. "The most important thing for us is to be a force of good," Turanski says.
"Glory Bee is the kind of entrepreneurial success story we celebrate for value beyond the bottom line. To grow a garage-based start-up into a thriving business is no easy task. To also create and drive initiatives of relevant socio-economic impact while doing so requires extraordinary ingenuity. It happens only with clarity in vision and mission, creative solutions to uncommon challenges, and comes only with a personal commitment to something greater than oneself."
Thank you to our community for the support!
View the
Register Guard Article here.