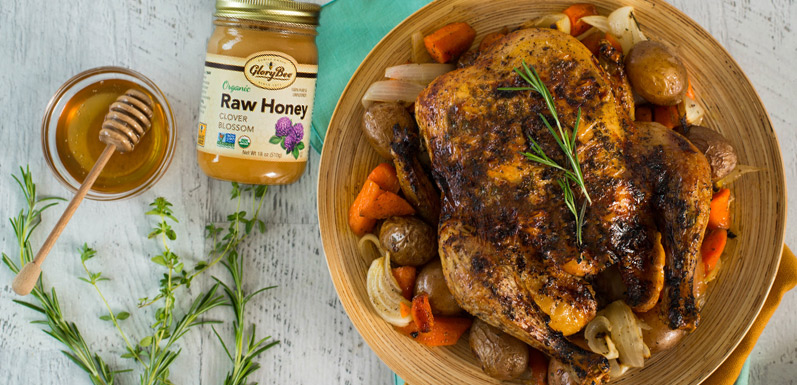 Honey-Glazed Roast Chicken
Every chef (or budding chef) should know how to create a roast chicken dinner.  It may seem daunting, but we've broken it down for you in a few simple steps. And we promise, it will be worth it and your family will thank you for serving the ultimate comfort dinner.
Ingredients
One 4 to 5-pound chicken, giblets removed
1 tablespoon fresh thyme leaves
1 tablespoon minced fresh rosemary
2½ teaspoons fine sea salt, divided
1½ teaspoons black pepper, divided
1 pound small red-skinned potatoes
1 pound carrots, cut into 1" lengths
1 large onion, cut into ¾" wedges
2 tablespoons preferred vegetable oil
Directions
1. One day before you plan to roast the chicken, place chicken on a rack set over a baking sheet and pat dry. In a small bowl mix together thyme, rosemary, 2 teaspoons salt, and 1 teaspoon pepper. Rub chicken all over with herb and salt mixture, and refrigerate, uncovered at least 4 or up to 24 hours.
3. In a large baking pan, toss potatoes, carrots, and onion with oil and remaining ½ teaspoon salt and ½ teaspoon pepper. Place chicken, breast-side up, on top of vegetables.
4. Roast for 1 hour 15 minutes or until golden brown and the internal temperature of the thickest part of the thigh registers about 150℉. Remove chicken from the oven, brush all over with honey, and return to the oven until deeply browned, about 15 minutes more.
5. Remove chicken from the oven and let rest, loosely tented with foil, for 15 minutes. Carve and serve.