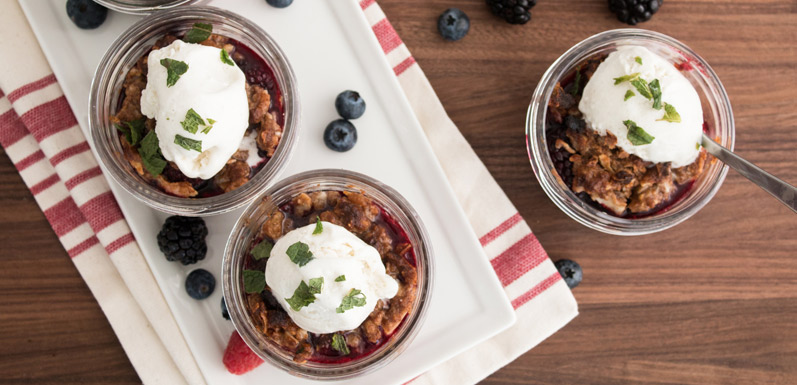 A little dessert never hurt anyone.... so go ahead, reward yourself with a Triple Berry Coconut Crumble. Portioned into mason jars, you can make these ahead of time and freeze, take one out and warm it in the microwave or oven for a small sweet treat. Enjoy!
Ingredients
2 cups fresh or frozen blackberries
2 cups fresh or frozen raspberries
2 cups fresh or frozen blueberries
Juice and zest of 1 lemon (about 3 tablespoons juice)
¼ cup cornstarch
½ teaspoon fine sea salt
For topping:
¾ cup coconut flour
½ cup coconut flakes
½ teaspoon fine sea salt
¼ cup minced candied ginger
Vanilla ice cream for serving, optional (but recommended)
Directions
1. Preheat oven to 350℉. Have ready 8 wide-mouth ½-pint glass canning jars.
2. In a large bowl, toss together blackberries, raspberries, blueberries, lemon juice and zest, coconut sugar, cornstarch, and salt. Divide mixture between jars and place jars on a baking sheet. Bake fruit for 20 minutes or until starting to bubble.
3. Meanwhile, in a medium bowl, stir together coconut flour, coconut flakes, coconut sugar, and salt. Stir in coconut oil until mixture is crumbly, then stir in ginger. After baking fruit, divide crumble mixture between jars.
4. Return crumbles to oven and bake until topping is golden, about 15 minutes more. Cool slightly, then serve with ice cream, if desired.