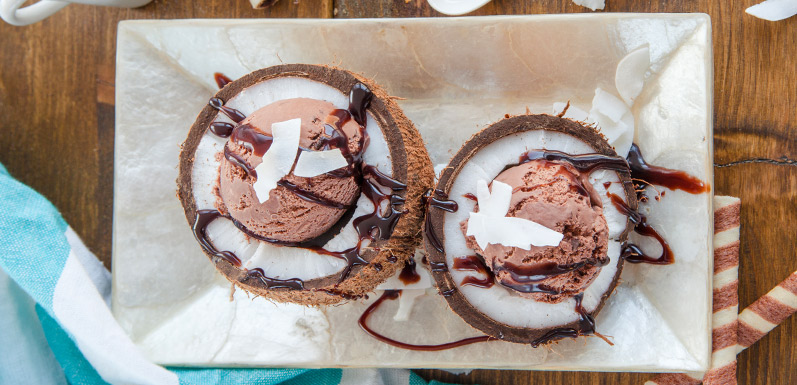 Did you know it's "National Chocolate Ice Cream" day? Sure is! Chocolate ice cream is the second most popular flavor, after vanilla. We decided to create a non-dairy recipe, using honey as the sweetener. Feel free to serve in a cone or add sprinkles if you like – everyone will enjoy the cool treat.
Ingredients
2 (13.5 oz) cans organic full-fat coconut milk, refrigerated until very cold
¾ cup organic cocoa powder
2 teaspoons vanilla extract
¼ teaspoon kosher salt
Directions
1. Combine all ingredients in a blender. Blend until smooth and creamy. Make sure you use the whole can of coconut milk – scraping out any of the hardened coconut cream out of the cans.
2. Once all blended, taste the mixture. If you prefer it sweeter, add a bit more honey, blending to incorporate.
3. If you don't have an ice cream maker, pour blended ingredients into a frozen dish (loaf pan) and freeze until firm. If you do have an ice cream maker, follow the manufacturer's directions. The ice cream will be soft set – server immediately or you may want to still place in the freezer.
4. After allowing the ice cream to freeze solid, take out of the freezer and allow to soften slightly before scooping.
Enjoy!