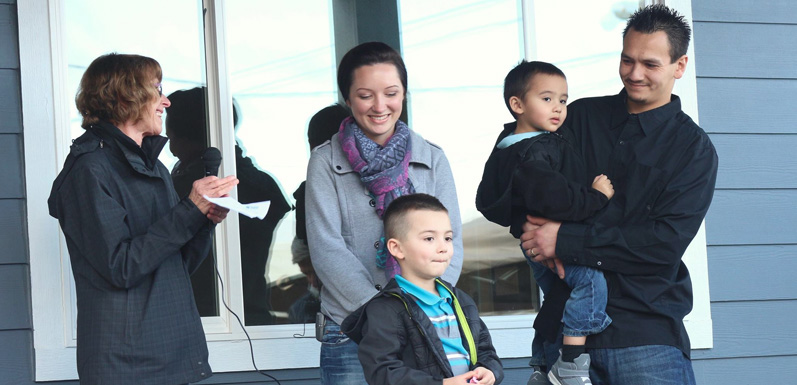 The Power of an Hour
The Dream
When thinking of things that can be done in an hour, most people think of watching a TV show or folding their family's laundry, but seven local companies in Eugene, Oregon thought bigger— much bigger. They decided they were going to build a house in one hour.
Moved by the story of Andres and Brenda Martinez, GloryBee teamed up with Timber Products, Ninkasi Brewing Company, Windermere Real Estate, Murphy Company, Quantum Health and Papé and decided to host an hour-long breakfast. By the time everyone was finished with the meal, the goal was to have raised the $70,000 the Martinez family needed in order to build a new home through Habitat for Humanity.
Inspired by a dream to own their own home so their two children could have stability and a safe place to grow up, the Martinez family worked hard to save their money for a down payment on a new home, but when Andres was diagnosed with cancer, they had to use all their money for medical bills and worse yet, he was not able to earn as much due to his recovery process. Their dreams seemed shattered.
They knew they needed help, but they didn't want a handout. They were thrilled to find out they qualified for a home through Habitat for Humanity, and best of all, it was something they could earn on their own, as long as they 1) invested "sweat-equity" hours in building the homes of others, 2) made an affordable down payment, 3) made timely mortgage payments and 4) attended homeowner education classes.
In addition to fulfilling all of these requirements, the Martinez family more than doubled the 400 required hours of building the homes of other Habitat partners by investing over 800 volunteer hours. They were determined to help others, no matter the cost. Their selfless giving not only inspired other struggling young families to give more than they were receiving, it inspired local businesses to partner together and raise the money it would require to build the Martinez family's new home.
The Reality
Fundraising requires tremendous time and effort, but these seven businesses knew the power of generosity can overcome any obstacle. Some people said it couldn't be done, but not only did they raise the $70,000 they needed to pay for the cost of the Martinez family's home, they raised over $100,000 to help other Habitat for Humanity partner families.
Once the money was raised, the local community came together and helped the Martinezes build their new home. People of all nationalities and faith-backgrounds worked side-by-side in the true spirit of brotherhood and gave their time and labor to help a young family have a safe place to shelter their family. It was "unity" personified.
On February 22, 2016, the day finally arrived — Habitat for Humanity hosted a special dedication ceremony for the Martinez family's new home. The highlight of the day was when Habitat presented the long-awaited house keys to the family. It was an emotional celebration, to say the least.
Some have said that "Rome wasn't built in a day," but that's only because these seven Oregon companies weren't around in 700 BC. They are proof that in just one hour a lifetime of dreams can be realized.